The Insertion of the Tool Balanced Scorecard in the Strategic Planning of a Growing Company: A Case Study in the Company Metadil Metalúrgica Indústria e Comércio Ltda
Keywords:
Strategic Planning. Balanced Scorecard. Strategic Map. Expanding Small Company.
Abstract
The aim of this study was to analyze how the Balanced Scorecard (BSC) can assist in the building the strategic planning of a small growing company, in order to achieve its strategic targets. For this purpose, it was carried out a study in a small company of the furniture segment, with a view to identify the benefits derived from the use of BSC at the organization. The following departments were analyzed: Human Resources, Marketing/Customers, Finances, and Production, and identified as BSC perspectives, they assisted in meeting the strategic targets of the company. In this study, it was adopted the qualitative methodology, with exploratory and descriptive nature, through case study. By the close analysis of BSC use, it was noticed, that there should be greater interaction among the different areas, with effective acting from HR area, regarding improvement in the company learning and growth, such as training and motivation programs; at the Production section, indicators were created in order to meet the increasing demand; concerning Marketing/Customers section, it was identified, through indicators at customers perspective, their real needs, in order to keep them satisfied with products and services; and, regarding to Finances, indicators were created to manage the investments and the minimization of production costs.
Downloads
Download data is not yet available.
References
ACKOFF, R. L. Planejamento empresarial. Rio de Janeiro: Livros Técnicos e Científicos Editora S.A., 1974.
ALMEIDA, M. I. R. Manual de planejamento estratégico. São Paulo: Atlas, 2001.
ANSOFF, H.I. Estratégia empresarial. São Paulo: McGraw-Hill, 1977.
BARON, R. J.; SHANE, S. A. Empreendedorismo. Uma visão do Processo. São Paulo: Thomson Learning, 2007.
DOSI, G. "The nature of the innovative process", in Dosi, G.; Soete, L. (orgs.) Technical Change and Economic Theory. Londres: Pinter Publishers, 1988.
FILLION, L. J. Empreendedorismo: empreendedores e proprietários-gerentes de pequenos negócios. Revista de Administração. V.34, n.2, p.5-28, abril-junho, 1999.
FISCHMANN, A. A.; ALMEIDA, M. I. R. Planejamento estratégico na prática. São Paulo: Editora Atlas, 2009.
HAYDEN, C. The handbook of strategic expertise. New York, The Free Press, 1986.
HISRICH, R.D; PETERS, M.P. Entrepreneurship. New York: McGraw Hill, 2002.
HITT, M. A.; IRELAND, R. D.; HOSKISSON, R. E. Strategic management: Competitiveness and globalization. Cincinnati, Ohio: South-Western College Publishing, 2001.
IGARASHI, D. D.D.; IGARASHI, W.; GASPARETTO, V.; MARTINS, K. R. G.; Mapa estratégico e painel de desempenho: um estudo numa empresa da grande Florianópolis. Santa Catarina, 2007.
KAPLAN, R.S.; NORTON, D.P. The balanced scorecard – measures that drive performance. Harvard Business Review, Boston, v.70, n.1, p.71-79, Jan./Feb. 1992.
KAPLAN, Robert S. & NORTON, David P., A Estratégia em Ação: Balanced Scorecard. Rio de Janeiro, Campus, 1997.
KAPLAN, R. S.; NORTON, D.P.; Mapas estratégicos. 4 Ed. Rio de Janeiro: campos, 2004.
KAUARK, Fabiana; MANHÃES, Fernanda Castro; MEDEIROS, Carlos Henrique. Metodologia da pesquisa: guia prático. Itabuna. Via Litterarum, 2010. LACOMBE, Francisco José Masset. Teoria geral da administração. Saraiva, 2009.
MACCARI, E. A.; LOBOSCO, A.; SOUZA, N.; A importância da Ferramenta Balanced Scorecard para a análise Financeira da empresa – um Estudo de Caso na Empresa Duratex. São Paulo, SEMEAD FEA – USP, 2009.
MAXIMIANO, A. C. A. Introdução à administração. São Paulo: Atlas, 2010.
___________________; Teoria Geral da Administração. 6. Ed. São Paulo: Atlas, 2008.
OLIVEIRA, Djalma de Pinho Rebouças de. Planejamento estratégico: conceitos, metodologia, práticas. 23. ed. São Paulo: Atlas, 2007.
OLIVEIRA, L. M.; PEREZ JR. J. H.; SILVA, C. A. DOS SANTOS. Controladoria estratégica. 8. Ed. São Paulo: Atlas, 2011.
Manual de Oslo. (2006). The measurement of scientific and technological activities. Proposed Guidelines for Collecting and Interpreting Technological Innovation Data. European Commission and Eurostat - Manual de Oslo - DIRETRIZES PARA COLETA E INTERPRETAÇÃO DE DADOS SOBRE INOVAÇÃO. Traduzido pela FINEP, 3ª Ed, 2006.
MINTZBERG, Henry. Criando organizações eficazes: estruturas em cinco configurações. 2a ed. 4°. reimpressão, São Paulo: Ed. Atlas, 2008.
NIVEN, P. R. Balanced Scorecard Passo-a-Passo: Elevando o Desempenho e Mantendo Resultados. Rio de Janeiro: Ed. Qualitymark, 2007.
OLIVEIRA, D.P.R. Planejamento estratégico: conceitos, metodologia e práticas. São Paulo: Atlas, 1988.
Porter, Michael. Estratégia competitiva. Elsevier Brasil, 2004.
PRADO, Luiz Carlos Delorme. Globalização: notas sobre um conceito controverso. Encontra-se publicado no site do Instituto de Economia da Universidade Federal do Rio de Janeiro, 2009. Disponível em: . Acesso em: 09 set. 2011.
ROBBINS, Stephen P. Administração Mudanças e Perspectivas. São Paulo: Saraiva, 6ª tiragem, 2006.
ROCHA, Josilene Martins; DE OLIVEIRA CASARTELLI, Alam. Análise do processo de implantação do Balanced Scorecard (BSC) em uma instituição de ensino superior. Revista Gestão Universitária na América Latina-GUAL, v. 7, n. 3, p. 268-290, 2014.
ROSA, S. E. S.; CORREA, A. R.; LEMOS, M. L. F.; BARROSO, D.V.; O setor de móveis na atualidade: uma análise preliminar. BNDES Banco Nacional de Desenvolvimento e Sustentabilidade
RUSS, J. Dicionário de filosofia. São Paulo: Scipione, 1994.
SANTOS, M. O. G.; Mapas estratégicos- Texto de apoio. Évora, 2011. SCATTOLINI, R.; Uso do Balanced Scorecard como direcionador da tecnologia da informação. São Paulo, 2007. Disponível em: www.teses.usp.br/teses/.../3/.../Renata_Scattolini_Dissertacao_Final.pdf. Acesso em 03/12/2013.
SCHUMPETER, J.A. Teoria do desenvolvimento econômico: uma investigação sobre lucros, capital, crédito, juro e o ciclo econômico. Ed. São Paulo, Ed. Nova Cultural Ltda, 1997.
SILVA, Reinaldo Oliveira. Teorias da administração. São Paulo: Editora Pioneira Thomsom Learning, 2001.
SOUZA, Sionésio Correa de; MARINHO, Sidnei Vieira. Planejamento estratégico baseado no balanced scorecard: um estudo de caso aplicado a uma pequena empresa de segurança. Gestão & Planejamento-G&P, v. 15, n. 2, 2014.
STIGLITZ, Joseph E. Globalization and Its Discontents, W.W. Norton & Company, New York, April 2003.
YIN, R. K. Estudo de Caso: planejamento e métodos. 4ª Ed. – Porto Alegre: Ed. Artmed Editora S/A 2010.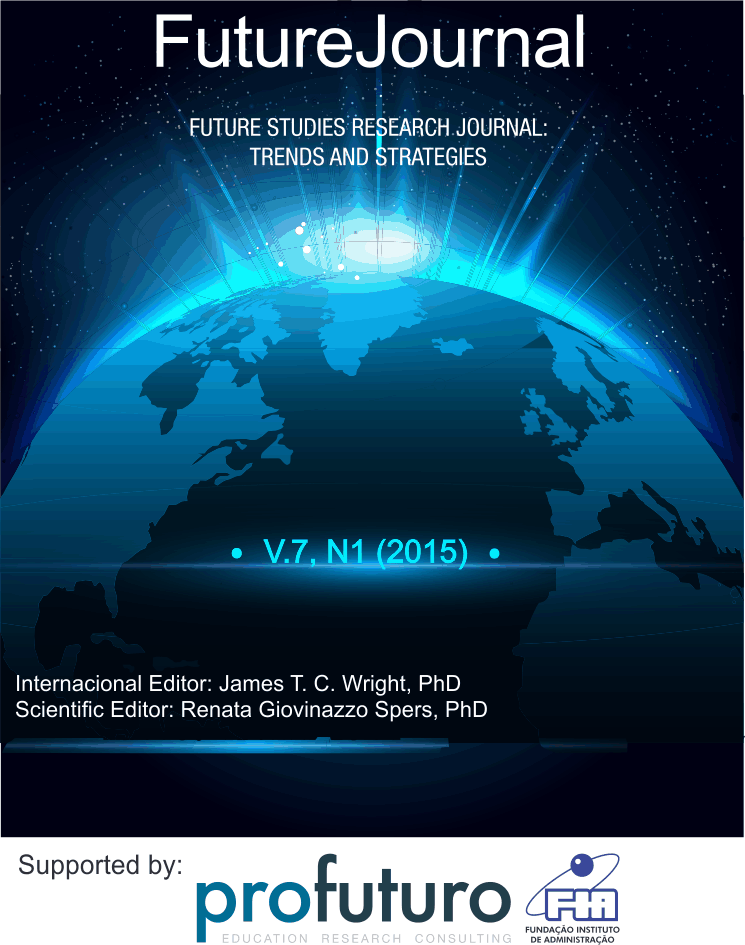 How to Cite
Queiroz, R. T., Lobosco, A., de Almeida, M. I. R., & Maccari, E. A. (2015). The Insertion of the Tool Balanced Scorecard in the Strategic Planning of a Growing Company: A Case Study in the Company Metadil Metalúrgica Indústria e Comércio Ltda. Future Studies Research Journal: Trends and Strategies, 7(1), 109. https://doi.org/10.24023/FutureJournal/2175-5825/2015.v7i1.194
Section
Artigos / Articles
License
Authors who publish with this journal agree to the following terms:
1. Authors who publish in this journal agree to the following terms: the author(s) authorize(s) the publication of the text in the journal;
2. The author(s) ensure(s) that the contribution is original and unpublished and that it is not in the process of evaluation by another journal;
3. The journal is not responsible for the views, ideas and concepts presented in articles, and these are the sole responsibility of the author(s);
4. The publishers reserve the right to make textual adjustments and adapt texts to meet with publication standards.
5. Authors retain copyright and grant the journal the right to first publication, with the work simultaneously licensed under the Creative Commons Atribuição NãoComercial 4.0 internacional, which allows the work to be shared with recognized authorship and initial publication in this journal.
6. Authors are allowed to assume additional contracts separately, for non-exclusive distribution of the version of the work published in this journal (e.g. publish in institutional repository or as a book chapter), with recognition of authorship and initial publication in this journal.
7. Authors are allowed and are encouraged to publish and distribute their work online (e.g. in institutional repositories or on a personal web page) at any point before or during the editorial process, as this can generate positive effects, as well as increase the impact and citations of the published work (see the effect of Free Access) at http://opcit.eprints.org/oacitation-biblio.html
• 8. Authors  are able to use 
ORCID
 is a system of identification for authors. An ORCID identifier is unique to an individual and acts as a persistent digital identifier to ensure that authors (particularly those with relatively common names) can be distinguished and their work properly attributed.