O uso criativo dos mecanismos de busca da Web 2.0 para pesquisar invenções e criar inovações frugais
Keywords:
Ciência da Informação, Web 2.0, Criatividade, Inovação frugal.
Abstract
O crescimento exponencial da informação torna cada vez mais complexo o acesso ao acervo do conhecimento, pois exige instrumentos inovadores para processamento, armazenagem e recuperação da informação para serem aplicadas às necessidades das organizações. A Web 2.0 disponibiliza novas estratégias mercadológicas e novos processos de comunicação ao potencializar as possibilidades de trabalho coletivo e participativo, com a construção, disseminação  e compartilhamento de informações apoiadas e intermediadas pelo computador. Este estudo, de natureza qualitativa e nível descritivo, identifica as características de alguns mecanismos de busca da Web 2.0 para apropriação dos dados científicos e tecnológicos que possam ser utilizados para a pesquisa de invenções e criação de inovações frugais. Os resultados comprovaram que os recursos informacionais e cooperativos analisados permitem, potencialmente, auxiliar a criação de inovações frugais baseadas no efeito termoelétrico (Efeito Peltier). Inovações baseadas nesse fenômeno devem se tornar uma das alternativas mais promissoras para a promoção do desenvolvimento inclusivo das economias emergentes. 
Downloads
Download data is not yet available.
References
Abbas, A., Zhang, L.; Khan, S.U. (2014). A literature review on the state-of-the-art in patent analysis. World Patent Information. Vol. 37, p3-13. 11p.
Almind, T.C. & Ingwersen, P. (1997). Informetric analyses on the world wide web: methodological approaches to "webometrics". Journal of Documentation, v. 53, n. 4, p. 404-426, 1997.
Altshuller, G. S. (1984). Creativity as An Exact Science - The Theory of The Solution of Inventive Problems. 1a. ed. Luxemburg: Gordon & Breach.
Amabile, T. M.; Conti, R., Coon; H.; Lazenby, J.& Herron, M. (1996). Assessing the work environment for creativity. Academy of Management Journal, 39(5), 1154-1185.
Basu, R,R., Banerjee, P.M., & Sweeny, E. (2013). Frugal Innovation Core competencies to address global sustainability. Journal of Management for Global Sustainability, v.2, pp. 63–82.
Bhatti, Y. (2012). What is frugal, what is innovation? Towards a theory of frugal innovation. Social Science Research Network. Recuperado em 20/12/2014 de http://papers.ssrn.com/sol3/papers.cfm?abstract_id=2005910.
Burgess. P. (2012). Frugal innovation- Sometimes simplicity is the strongest business model. Sustainable Industries.
Bush, V. (1995). As we may may think. Atlantic Monthly, v.176, n.1, p. 101-108.
Cendon, B.V. (2001, jan/abr). Ferramentas de busca na Web. CI, Inf., Brasilia, v.30, n.1, p. 39-49.
European Commission (1995). Green paper on innovation. Recuperado em 13/03/2011 de http://europa.eu/documents/comm/green_papers/pdf/com95_688_en.pdf.
Eisenhardt, K.M. Building theories from case study research. Academy of Management Review, v.14, n.4, p.532-550, Oct. 1989.
Espacenet. European Patent Office. Recuperado em 9/12/2-14 de http://worldwide.espacenet.com.
Feldman, L.B.; Ruthes, R.M. & Cunha, I.C.K.O. (2008). Criatividade e inovação: competências na gestão de enfermagem. Revista Brasileira de Enfermagem. Vol. 61, núm. 2, marzo-abril, pp. 239-242.
Ferreira, A. A., Guimarães, E. R. & Contador, J. C. (2009). Patente como instrumento competitivo e como fonte de informação tecnológica. Gest. Prod., v. 16, n. 2, p. 209-221.
Fleury, M.T.L. & Fleury, A. (2001). Construindo o Conceito de Competência. RAC, Edição Especial 2001: 183-196.
Google Patents. Recuperado em 9/12/2014 de http://www.google.com/?tbm=pts.
Lai, L.S.L. & Turban, E. (2008). Groups Formation and Operations in the Web 2.0.Environment and Social Networks. Group Decis Negot.17:387–402.
Macia-Chapula, C.A. (1998, maio/agosto). O papel da informetria e da cienciometria e sua perspectiva nacional e internacional. Ciência da Informação, Brasília, v. 27, n. 2, p. 134-140.
Mooers, C.N. (1951). Zatocoding applied to mechanical organization of knowledge. American Documentation, v. 2, p. 20-32.
O`Reilly, T. (2005). What Is Web 2.0 Design Patterns and Business Models for the Next Generation of Software. O'Reilly. Recuperado em 20/12/2014 de http://www.oreilly.com/pub/a/web2/archive/what-is-web-20.html.
Patentscope. World Intellectual Property Organization. Recuperado em 9/12/2014 de http://www.wipo.int/patentscope/search/en/search.jsf.
Plonski, G.A. (2005 janeiro/março). Bases para um movimento pela inovação tecnológica no Brasil. São Paulo em Perspectiva, v. 19, n. 1, p. 25-33.
Prahalad, C.K. & Hart, S.L. (2002). The fortune at the botton of the pyramid. Strategy Business Issue.
Puccio, G.J. & Cabra J.F. (1999). Organizational Creativity:A Systems Approach. In R. J. Sternberg (Ed.), Handbook of creativity (pp. 3–15). New York, NY: Cambridge University Press.
Ruas, R. (2005). Literatura, dramatização e formação gerencial: a apropriação de práticas teatrais ao desenvolvimento de competências gerenciais. Organizações & Sociedade, v. 12, n. 32, p. 121-142.
Sachs, I. (2010). Barricadas de ontem,campos de futuro. Estudos avançados. 24 (68).
Saracevic, T. (1996). Ciência da Informação: orgiem, evolução e relações. Perspectivas em Ciência da Informação.V1. n.1. Recuperado em 18/12/2014 de http://portaldeperiodicos.eci.ufmg.br/index.php/pci/article/view/235.
Strong, M. (1993). Prefácio. In: SACHS, I. Estratégia de transição para o Século XXI. São Paulo, Fundap.
Valentim, M.L.P. (2008). Criatividade e Inovação na Atuação Profissional. CRB-8 Digital. São Paulo, v. 1, n. 1, p. 3-9.
Vanti, N.A.P.(2002, maio/agosto). Da bibliometria à webometria: uma exploração conceitual dos mecanismos utilizados para medir o registro da informação e a difusão do conhecimento. Ciência da Informação, Brasília,v. 31, n. 2, p. 152-162.
Wikipedia. (2014). Recuperado em 10 dez 2014 de http://en.wikipedia.org/wiki/Main_Page.
Wormell, I. (1998). Informetria: explorando bases de dados como instrumentos de análise. Ciência da Informação, Brasília, v. 27, n. 2.
Yin, R. (2010). Estudo de Caso – Planejamento e Métodos. 4. ed. São Paulo: Bookman.
Zeschky, M.B., Winterhalter, S., & Gassmann, O. (2014). From Cost to Frugal and Reverse Innovation: Mapping the Field and Implications for Global Competitiveness. Research-Technology Management, pp.20-27.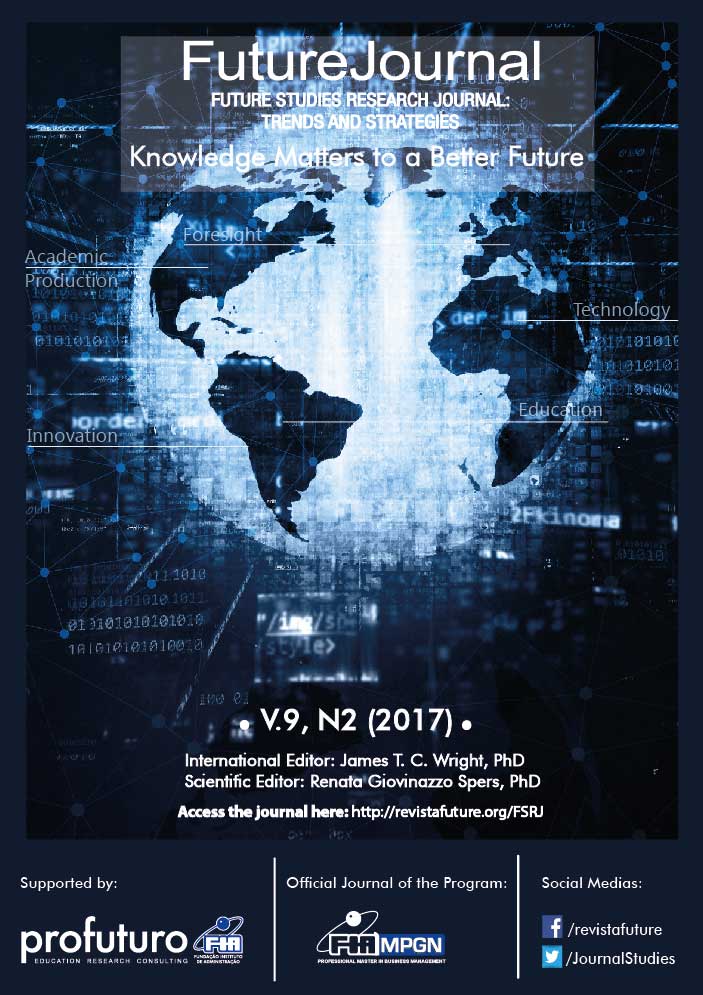 Downloads
How to Cite
Kono, C. M., Quoniam, L., Rodrigues, L. C., & do Carmo, H. M. O. (2017). O uso criativo dos mecanismos de busca da Web 2.0 para pesquisar invenções e criar inovações frugais. Future Studies Research Journal: Trends and Strategies, 9(2), 30–60. https://doi.org/10.24023/FutureJournal/2175-5825/2017.v9i2.229
Section
Artigos / Articles
License
Authors who publish with this journal agree to the following terms:
1. Authors who publish in this journal agree to the following terms: the author(s) authorize(s) the publication of the text in the journal;
2. The author(s) ensure(s) that the contribution is original and unpublished and that it is not in the process of evaluation by another journal;
3. The journal is not responsible for the views, ideas and concepts presented in articles, and these are the sole responsibility of the author(s);
4. The publishers reserve the right to make textual adjustments and adapt texts to meet with publication standards.
5. Authors retain copyright and grant the journal the right to first publication, with the work simultaneously licensed under the Creative Commons Atribuição NãoComercial 4.0 internacional, which allows the work to be shared with recognized authorship and initial publication in this journal.
6. Authors are allowed to assume additional contracts separately, for non-exclusive distribution of the version of the work published in this journal (e.g. publish in institutional repository or as a book chapter), with recognition of authorship and initial publication in this journal.
7. Authors are allowed and are encouraged to publish and distribute their work online (e.g. in institutional repositories or on a personal web page) at any point before or during the editorial process, as this can generate positive effects, as well as increase the impact and citations of the published work (see the effect of Free Access) at http://opcit.eprints.org/oacitation-biblio.html
• 8. Authors  are able to use 
ORCID
 is a system of identification for authors. An ORCID identifier is unique to an individual and acts as a persistent digital identifier to ensure that authors (particularly those with relatively common names) can be distinguished and their work properly attributed.