R&D ADMINISTRATION IN THE HIGH TECHNOLOGY INDUSTRY: HOW TO MANAGE A PARADOX
Abstract
The competitive environment of the knowledge age is getting more complex, dynamic, and fast-moving each day. The high tech industry is intensively tied to its effects and demands for innovation, so the field of Research and Development must act strategically, generating innovations and granting success and sustainability to the business. However, there is a paradox in R&D which may lay traps and obstacles disguised by the busy day-to-day activity of the organization. The purpose of this paper is to point out directions that managers may take to cope with these contradictions in R&D administration. The R&D paradox is rooted in the conflict between exploitation, achieved by continual improvement through incremental innovation, and by exploration, which seeks new opportunities in the creation of new technologies through disruptive innovations. These two sides of the paradox demand different, and sometimes even divergent, organizations. Top management leadership is crucial for the acceptance and balancing of the contradictions created by this paradox, and can align exploitation/exploration through distributive and integrative decisions and transform companies into truly ambidextrous organizations.  
Key-words:  Research & Development. Innovation. Paradox. Ambidextrous organizations. Strategy.
Downloads
Download data is not yet available.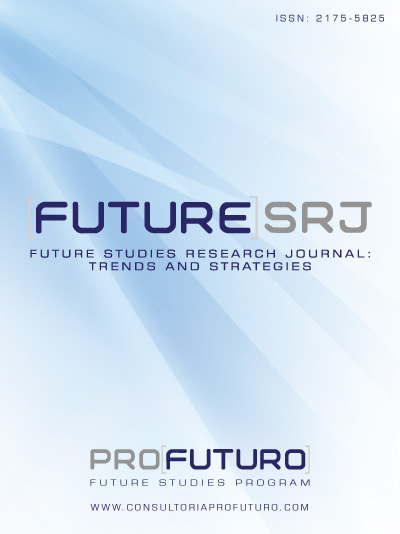 How to Cite
Ito, N. C., & Mirica, M. de P. (2010). R&D ADMINISTRATION IN THE HIGH TECHNOLOGY INDUSTRY: HOW TO MANAGE A PARADOX. Future Studies Research Journal: Trends and Strategies, 2(2), 108–131. https://doi.org/10.24023/FutureJournal/2175-5825/2010.v2i2.60
Section
Artigos / Articles
License
Authors who publish with this journal agree to the following terms:
1. Authors who publish in this journal agree to the following terms: the author(s) authorize(s) the publication of the text in the journal;
2. The author(s) ensure(s) that the contribution is original and unpublished and that it is not in the process of evaluation by another journal;
3. The journal is not responsible for the views, ideas and concepts presented in articles, and these are the sole responsibility of the author(s);
4. The publishers reserve the right to make textual adjustments and adapt texts to meet with publication standards.
5. Authors retain copyright and grant the journal the right to first publication, with the work simultaneously licensed under the Creative Commons Atribuição NãoComercial 4.0 internacional, which allows the work to be shared with recognized authorship and initial publication in this journal.
6. Authors are allowed to assume additional contracts separately, for non-exclusive distribution of the version of the work published in this journal (e.g. publish in institutional repository or as a book chapter), with recognition of authorship and initial publication in this journal.
7. Authors are allowed and are encouraged to publish and distribute their work online (e.g. in institutional repositories or on a personal web page) at any point before or during the editorial process, as this can generate positive effects, as well as increase the impact and citations of the published work (see the effect of Free Access) at http://opcit.eprints.org/oacitation-biblio.html
• 8. Authors  are able to use 
ORCID
 is a system of identification for authors. An ORCID identifier is unique to an individual and acts as a persistent digital identifier to ensure that authors (particularly those with relatively common names) can be distinguished and their work properly attributed.