PERCEPTION OF UNCERTAINTY AND OPERATIONAL PERFORMANCE OF THE BRAZILIAN INDUSTRY FROM 2007 TO 2009
Abstract
This article poses to explore the relationship between the manager´s perception of uncertainty and the Brazilian industry´s operational performance during the period from 2007 to 2009. This timeframe was chosen because it comprised both positive and negative cycles of the global economic panorama, and thus capable of interfering in the manager´s perception of uncertainty and consequent business strategies. Periods of market fluctuations and more dynamic and complex business environments clearly demonstrate that managerial models which are applicable to static or predictable scenarios, become fragile and of dubious applicability; that is, practices adopted and described in business administration bibliographies might not produce expected results.  A key factor for sound performance is the positioning of companies in relation to future planning (Knight, 2002), the latter defined as actions taken by the entrepreneur given a certain degree of uncertainty, inherent to the management activity.  The relationship between uncertainty and corporate performance has been studied, at least, ever since Knight in 1921. The author affirmed that we live in a world of change and in a world of uncertainty. The level of entrepreneur trust from the National Industry Confederation represented the perception of uncertainty, whilst operational performance was formed as of industrial production and employment IBGE indexes. Results demonstrate that both constructs have equivalent movements during the course of the period, presenting a positive correlation.
Key-words: Uncertainty. Operational performance. Trust.
Downloads
Download data is not yet available.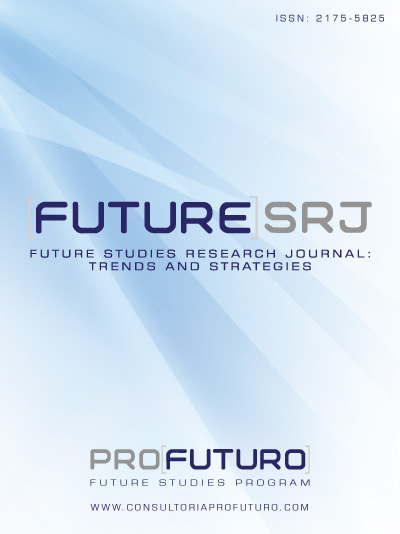 How to Cite
Lombardi, M. S., Bertoni, C. E., Nozawa, G. I., Grandi, L. A., & Bellato, T. (2010). PERCEPTION OF UNCERTAINTY AND OPERATIONAL PERFORMANCE OF THE BRAZILIAN INDUSTRY FROM 2007 TO 2009. Future Studies Research Journal: Trends and Strategies, 2(2), 56–82. https://doi.org/10.24023/FutureJournal/2175-5825/2010.v2i2.56
Section
Artigos / Articles
License
Authors who publish with this journal agree to the following terms:
1. Authors who publish in this journal agree to the following terms: the author(s) authorize(s) the publication of the text in the journal;
2. The author(s) ensure(s) that the contribution is original and unpublished and that it is not in the process of evaluation by another journal;
3. The journal is not responsible for the views, ideas and concepts presented in articles, and these are the sole responsibility of the author(s);
4. The publishers reserve the right to make textual adjustments and adapt texts to meet with publication standards.
5. Authors retain copyright and grant the journal the right to first publication, with the work simultaneously licensed under the Creative Commons Atribuição NãoComercial 4.0 internacional, which allows the work to be shared with recognized authorship and initial publication in this journal.
6. Authors are allowed to assume additional contracts separately, for non-exclusive distribution of the version of the work published in this journal (e.g. publish in institutional repository or as a book chapter), with recognition of authorship and initial publication in this journal.
7. Authors are allowed and are encouraged to publish and distribute their work online (e.g. in institutional repositories or on a personal web page) at any point before or during the editorial process, as this can generate positive effects, as well as increase the impact and citations of the published work (see the effect of Free Access) at http://opcit.eprints.org/oacitation-biblio.html
• 8. Authors  are able to use 
ORCID
 is a system of identification for authors. An ORCID identifier is unique to an individual and acts as a persistent digital identifier to ensure that authors (particularly those with relatively common names) can be distinguished and their work properly attributed.