FORECAST OF PRODUCTION OF FLEX FUEL CARS AND ETHANOL DEMAND IN BRAZIL IN 2014
Abstract
Brazil is currently set up as an important worldwide example in relation to the successful incorporation of biofuel ethanol in its energy matrix. The article examines the impacts of biofuel technology insertion (flex fuel) and estimated, using the methodology Fisher-Pry, the evolution of the total vehicle fleet with this technology in Brazil in 2014. In addition, we performed a prediction of future demand for ethanol, using the technique of Gompertz, also for the year 2014. Both methodologies were checked through STATA statistical system. The study relied on data from January 2005 to October 2009, which were extrapolated to December 2014. The Fisher-Pry model was used to prepare the scenario analysis of the replacement of cars with conventional technology (gasoline), for cars with flex fuel technology. As a result, the projection showed an increase of 18.2 percentage points in five years, rising from 78.4% recorded in October 2009, to 96.6% in December 2014. As a premise, we considered the continuity of the prices of ethanol and gasoline observed between jan/02 Oct/2009 and that shows ethanol being marketed at a price below the minimum necessary to make this renewable fuel competitive with gasoline in 88 of 95 months. The Gompertz model indicated that ethanol will represent approximately 43.9% of all fuel sold by distributors at the end of 2014, whereas today this share is only 18.2%.
Downloads
Download data is not yet available.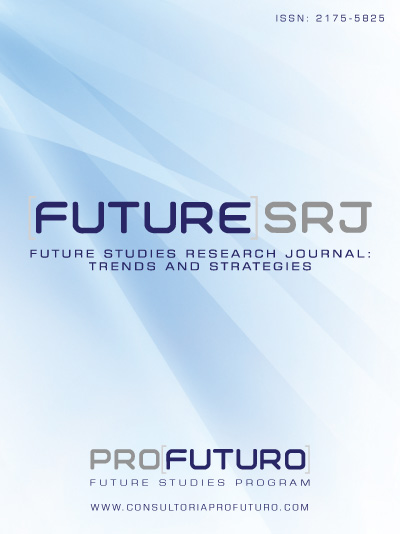 How to Cite
Favaro, F. T., Santos, C. T., & Parente, V. (2010). FORECAST OF PRODUCTION OF FLEX FUEL CARS AND ETHANOL DEMAND IN BRAZIL IN 2014. Future Studies Research Journal: Trends and Strategies, 2(1), 85–98. https://doi.org/10.24023/FutureJournal/2175-5825/2010.v2i1.44
Section
Artigos / Articles
License
Authors who publish with this journal agree to the following terms:
1. Authors who publish in this journal agree to the following terms: the author(s) authorize(s) the publication of the text in the journal;
2. The author(s) ensure(s) that the contribution is original and unpublished and that it is not in the process of evaluation by another journal;
3. The journal is not responsible for the views, ideas and concepts presented in articles, and these are the sole responsibility of the author(s);
4. The publishers reserve the right to make textual adjustments and adapt texts to meet with publication standards.
5. Authors retain copyright and grant the journal the right to first publication, with the work simultaneously licensed under the Creative Commons Atribuição NãoComercial 4.0 internacional, which allows the work to be shared with recognized authorship and initial publication in this journal.
6. Authors are allowed to assume additional contracts separately, for non-exclusive distribution of the version of the work published in this journal (e.g. publish in institutional repository or as a book chapter), with recognition of authorship and initial publication in this journal.
7. Authors are allowed and are encouraged to publish and distribute their work online (e.g. in institutional repositories or on a personal web page) at any point before or during the editorial process, as this can generate positive effects, as well as increase the impact and citations of the published work (see the effect of Free Access) at http://opcit.eprints.org/oacitation-biblio.html
• 8. Authors  are able to use 
ORCID
 is a system of identification for authors. An ORCID identifier is unique to an individual and acts as a persistent digital identifier to ensure that authors (particularly those with relatively common names) can be distinguished and their work properly attributed.