Influence Analysis of Organizational Culture on Participatory Strategic Planning of a Multicampi State University in Brazil's Midwest Region
Keywords:
Participatory Strategic Planning, University Management, Culture
Abstract
Objective: To describe how organizational culture influenced on elaboration process of participatory strategic planning (PEP) of a multicampi state university in Brazil's Midwest region.
Methodology/approach: A qualitative approach was adopted with the Ex-post facto case study method, with semi-structured interviews and participant direct observation. The analysis was based on the pattern-matching technique and narrative analysis, from the perspective of two constitutive elements of analysis: (i) Strategy as a collective process and (ii) PEP as an instrument for strengthening organizational culture.
Originality/Relevance: Educational institutions are considered complex, which hinders the applicability of tools and management commonly used in other types of organizations. The gap of this study was the combination of researching organizational culture together with the theme of strategic planning in a higher education institution and thereby expanding research on university management.
Main results: It was verified that the interaction provided by the process of discussion and construction of PEP contributed to the strengthening of the organizational culture, enabled individuals to internalize organizational values and beliefs through a process of socialization, acculturation, and social integration among the various actors involved.
Theoretical/methodological contributions: It highlight the importance of strategic planning in different organizational cultures, especially in higher education institutions. The methods adopted contributed to confirm the need to use various sources for the necessary deepening of the development of a case study.
Social contributions / for management: Strengthening the organizational culture.
Downloads
Download data is not yet available.
References
Almeida, L. F; Irber, F. M. V. F; Souza, L. J. S. S. (2013). O papel da cultura organizacional: Métodos de avaliação da influência da cultura de inovação nas organizações. Artigo apresentado no XXXIII Encontro Nacional de Engenharia de Produção (ENEGEP). Salvador (BA), Brasil.
Baldridge, J. V. (1971). Power and conflict in the university: research in the sociology of complex organizations. New York: Willey.
Baldridge, J; Deal, T. (1983) The dynamics of organizational change in educations. California: McCutchan Publishing Corporation.
Carvalho, C. E; Ronchi, C. C. (2005) Cultura organizacional: teoria e pesquisa. Rio de Janeiro: Fundo de Cultura.
Cohen, M.; March, J. (1974) Leadership and Ambiguity: the American College President. 2.ed. Boston: Harvard Business School Press.
Denhardt, R. B.(2012) Teorias da Administração Pública. São Paulo: Cengage Learning.
Dupuis, J. P. (1996) Antropologia, cultura e organização: proposta de um modelo construtivista. In: CHANLAT, J. F. (Org.). O indivíduo e a organização: dimensões esquecidas. 2. ed. São Paulo: Atlas.
Eisenhardt K. M.(1989).Building theories form case study research. Academy of Management Review, v. 14, n. 4, p. 532-550.
Fleury, M. T. & Fischer, R. M.(1989) Cultura e poder nas organizações. São Paulo: Atlas.
Godoi, C. K.; Bandeira-De-Mello, R; Silva, A. B.(2006). Pesquisa qualitativa em estudos organizacionais: paradigmas, estratégias e métodos. São Paulo: Saraiva.
Hall, R. H. (1978). Organizações: estruturas e processos. Rio de Janeiro: PrenticeHall do Brasil.
Hofstede, G., Neuijen, B., Ohayv, D. & Sanders, G. (1990). Measuring Organizational Cultures: A Qualitative and Quantitative Study Across Twenty Cases. Administrative Science Quarterly, v.35, n.2; p. 286-316.
JARZABKOWSKI, P.; FENTON, E. Strategizing and organizing in pluralistic contexts. Long Range Planning, v. 39, p. 631-648, 2006.
Jarzabkowski, P.; Balogun, J.; Seidl, D. (2007). Strategizing: the challenges of a practice perspective. Human Relations, v.60, n.1, p. 5-27.
Kerlinger, F. N. (1979). Metodologia da pesquisa em ciências sociais: um tratamento conceitual. São Paulo: EPU; Edusp.
Lavarda, R., Canet-Giner, M. T., Peris-Bonet, F. (2010). How Middle Managers Contribute to strategy Formation Process: Conection of Strategy Processes and Strategy Practices. Revista de Administração de Empresas (RAE), 50: 358-370.
Meyer, V.; Pascucci, P.,(2011). Formação de Estratégias em Sistemas Complexos: Estudo Comparativo de Organizações Hospitalares sob a Perspectiva Prática. XXXV Encontro Anual da Associação Nacional dos Programas de Pós-Graduação em Administração, Anais, Rio de Janeiro: ANPAD, Setembro.
Meyer Jr., V.(2005). Planejamento universitário: ato racional, político ou simbólico – um estudo das universidades brasileiras. Revista Alcance, v.12, n. 3, p. 373-389.
Mintzberg, H., (1994). The rise and fall of strategic planning. Englewood Cliffs, NJ: Prentice Hall.
Mintzberg, H. & Waters, J. A. (1985) Of Strategies, Deliberate and Emergent. Strategic Management Journal, v. 6, 257-272.
Mintzberg, H.; Ahlstrand, B. & Lampel, J. (2010). Safari de estratégia: um roteiro pela selva do planejamento estratégico. 2. ed. Porto Alegre: Bookman.
Morgan, G. (1996). Imagens da organização. São Paulo: Atlas.
Pereira, L.C.B (1996). Da administração pública burocrática a gerencial. Revista do Serviço Público, v. 120, n.1, p. 7-40.
Pérez-Aguiar, W.(1999). El estudio de casos. In: SARABIA, Franciso José et al. Metodología para la investigación en marketing y dirección de empresas. Madri Pirámide.
Pettigrew, A. M., Ferlie, E & Mckee, L. (1992). Shaping strategic change. Londres: Sage.
Pires, J. C. De S. & Macêdo, K. B. (2006).Cultura organizacional em organizações públicas no Brasil. RAP, Rio de Janeiro, v. 40, n. 1, p. 81-105.
Ryan, Bob; Scapens, Robert W.; Theobald, Michael. (2004) Metodología de la Investigación en Finanzas y Contabilidad. P.imprenta: Deusto. Barcelona.
Quintella, Rogério & Cabral, Sandro (2007). Um modelo espacial para análise e ensino de escolas de pensamento estratégico. Revista de Administração Pública, v. 41, n. 6, p. 1165-1188.
Schein, E. H.(1988). Organization Culture and Leadership. San Francisco: Jossey Bass.
Saraiva, Luiz Alex Silva (2002). Cultura organizacional em ambiente burocrático. Revista de Administração Contemporânea, v. 6, n. 1, p. 187-207.
Smircich, L. (1983). Concepts of culture and organizational analysis. Administrative Science Quarterly, v. 28, n. 3, p. 339-358.
Srour, R. H.(1998). Poder, cultura e ética nas organizações. Rio de Janeiro: Campus.
Trochim, W. M. K. (1989). Outcome pattern matching and program theory. Evolution and Program Planning, v. 12, n. 4, p. 355-366.
Universidade do Estado de Mato Grosso (2018). Plano estratégico participativo 2015-2025 : planejar, participar, concretizar. Cáceres: Unemat.
Vergara, S. (2010). Métodos de pesquisa em administração. São Paulo: Atlas, 2010.
Weick, K. E.(1976). Educational organizations as loosely coupled systems. Administrative Science Quarterly, v. 21, n. 1, p. 1-19, 1976.
YIN, Robert K. (2015). Estudo de caso: planejamento e métodos. 5. ed. Porto Alegre: Bookman.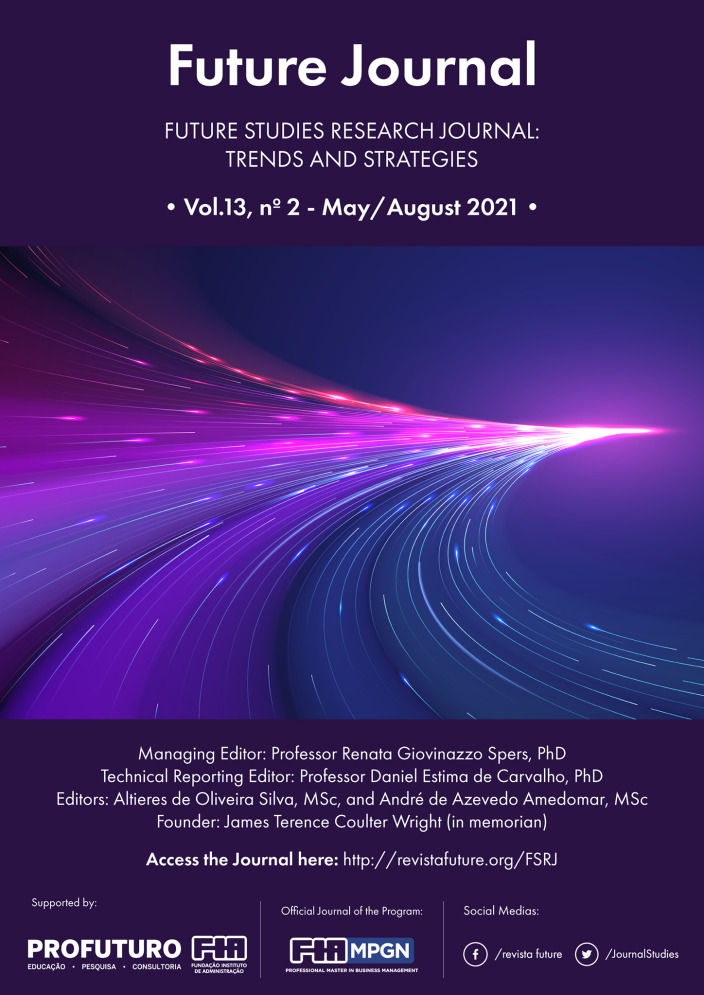 Downloads
How to Cite
Ferreira, L. E., Carvalho, R. M., Lavarda, R. A. B., & Martins, C. B. (2021). Influence Analysis of Organizational Culture on Participatory Strategic Planning of a Multicampi State University in Brazil's Midwest Region. Future Studies Research Journal: Trends and Strategies, 13(2), 230–249. https://doi.org/10.24023/FutureJournal/2175-5825/2021.v13i2.380
Section
Artigos / Articles
License
Authors who publish with this journal agree to the following terms:
1. Authors who publish in this journal agree to the following terms: the author(s) authorize(s) the publication of the text in the journal;
2. The author(s) ensure(s) that the contribution is original and unpublished and that it is not in the process of evaluation by another journal;
3. The journal is not responsible for the views, ideas and concepts presented in articles, and these are the sole responsibility of the author(s);
4. The publishers reserve the right to make textual adjustments and adapt texts to meet with publication standards.
5. Authors retain copyright and grant the journal the right to first publication, with the work simultaneously licensed under the Creative Commons Atribuição NãoComercial 4.0 internacional, which allows the work to be shared with recognized authorship and initial publication in this journal.
6. Authors are allowed to assume additional contracts separately, for non-exclusive distribution of the version of the work published in this journal (e.g. publish in institutional repository or as a book chapter), with recognition of authorship and initial publication in this journal.
7. Authors are allowed and are encouraged to publish and distribute their work online (e.g. in institutional repositories or on a personal web page) at any point before or during the editorial process, as this can generate positive effects, as well as increase the impact and citations of the published work (see the effect of Free Access) at http://opcit.eprints.org/oacitation-biblio.html
• 8. Authors  are able to use 
ORCID
 is a system of identification for authors. An ORCID identifier is unique to an individual and acts as a persistent digital identifier to ensure that authors (particularly those with relatively common names) can be distinguished and their work properly attributed.