Uso de Sistema de Informação Geográfica na Gestão do Marketing Mix: o caso de uma rede de calçados femininos
Keywords:
Geomarketing. Marketing Mix. Sistema de Informação Geográfica.
Abstract
O caso refere-se a uma rede de lojas de calçado feminino (Rede A) que enfrenta problemas de estoque. A empresa não usa informações sobre clientes e localização do ponto de venda para renovar seu estoque, o que gera diminuição das vendas, excesso de produtos em algumas lojas e ruptura em outras, já que os modelos dos calçados adquiridos chegam a ser superiores (inferiores) à demanda. Assim, o objetivo do trabalho é mostrar como as ferramentas de Sistema de Informação Geográfica (SIG) podem ser aplicadas para solucionar o problema utilizando dados do Instituto Brasileiro de Geografia e Estatística (IBGE). Observou-se que a gestão do composto de marketing da Rede A não está alinhada ao seu público alvo e potencial. A análise forneceu insights para ações a serem tomadas em relação ao mix de produtos das lojas, à precificação, à localização dos pontos de venda e ao posicionamento da marca. As contribuições das ferramentas de geomarketing e geoinformação são fundamentais para as decisões de varejo. A técnica de geoprocessamento permite analisar fenômenos e distribuições aplicadas ao marketing na medida em que auxiliam na identificar de padrões, além de utilizar, simultaneamente, inúmeros bancos de dados. Este trabalho contribui para ampliar a discussão sobre as ferramentas SIG na área de marketing e para mostrar como ferramentas e dados gratuitos podem ser fortes aliados ao negócio.
Downloads
Download data is not yet available.
References
Aranha, F. (1996). Sistema de Informação Geográfica: uma arma estratégica para o Database Marketing. Revista de Administração de Empresas, 36 (2), 12-16.
Baviera-Puig, A., Roig-Tierno, N., Buitrago-Vera, J., & Mas-Verdu, F. (2013). Comparing trade areas of technology centres using 'Geographical Information Systems'. The Service Industries Journal, 33 (7-8), 789-801.
Blackwell, R.D., Miniard, P.W., & Engel, J.F. (2011). Comportamento do consumidor. São Paulo: Cengage Learning.
Corujo, M. S. (2014). A contribuição do geomarketing para o processo decisório de localização de empresas de varejo: Um estudo de caso em uma empresa de vestuário feminino. Dissertação de Mestrado, Pontifícia Universidade Católica, PUC, Rio de Janeiro, Brasil.
Fagundes, A.F.A., Moriguchi, S.N., Vargas, R.T, Santana, E.E.P., & Sousa, C.V. (2009). A contribuição do geomarketing para a administração de vendas: um estudo de caso em uma empresa de telecomunicações. Anais do Encontro Nacional de Engenharia de Produção, 29, Salvador, BA, Brasil.
Gijsbrechts, E., Campo, K., & Goossens, T. (2003). The impact of store flyers on store traffic and store sales: a geo-marketing approach. Journal of Retailing, 79(1), 1-16.
Instituto Brasileiro de Geografia e Estatística. (2010). Recuperado em 28 de junho, 2016, de http://www.censo2010.ibge.gov.br/
Kamakura, W. A., & Mazzon, J. A. (2013a). Socioeconomic status and consumption in an emerging economy. International Journal of Research in Marketing, 30, 4-18.
Kamakura, W. A., & Mazzon, J. A. (2013b). Estratificação socioeconômica e consumo no Brasil. São Paulo: Blucher.
Kotler, P. & Keller, K.L. (2006). Administração de Marketing. 12 ed. São Paulo: Pearson Prentice Hall.
Machado, C.C., Francisco, E.R., & Ribeiro, J.G.P. (2006). A Geodemografia e os Estudos de Mercado: Identificação de Mercados Potenciais. In J. R. S. Guimarães (Org.). Demografia dos negócios: campo de estudo, perspectivas e aplicações (vol. 3, pp. 77-95). Campinas: ABEP.
Miller, F. L., Holmes, T. L., & Mangold, W. G. (2007). Integrating geographic information systems (GIS) into the marketing curriculum. Marketing Education Review, 17 (3), 49-63.
Mittal, V., Kamakura, W. A., & Govind, R. (2004). Geographic patterns in customer service and satisfaction: An empirical investigation. Journal of Marketing, 68 (3), 48-62.
Nunes, A., Santana, C., Bezerra, F., & Sobral, N. (2014). Knowledge Acquisition Based on Geomarketing Information for Decision Making: A Case Study on a Food Company. International Journal of Innovation, Management and Technology, 5 (6), 422-427.
Ozimec, A. M., Natter, M., & Reutterer, T. (2010). Geographical information systems-based marketing decisions: Effects of alternative visualizations on decision quality. Journal of Marketing, 74 (6), 94-110.
Pozzebon, M. & Delgado, N. (2012). Participatory Geographic Information Systems in Sierra Nevada, Mexico. Revue international de cas en gestion, 10 (1), 19p.
Prochnow, R. M. (2011). Potencial dos dados do setor censitário brasileiro aplicado ao marketing de um fast food delivery. Revista Geográfica de América Central, 2 (47E), 1-22.
Thompson, S. (Outubro 2010). Using GIS for Local-Market Penetration, Winning Strategies. Franchising World, 23-25.
Wedel, M. & Kamakura, W. A. (2000). Market segmentation: Conceptual and methodological foundations. Boston: Kluwer Academic.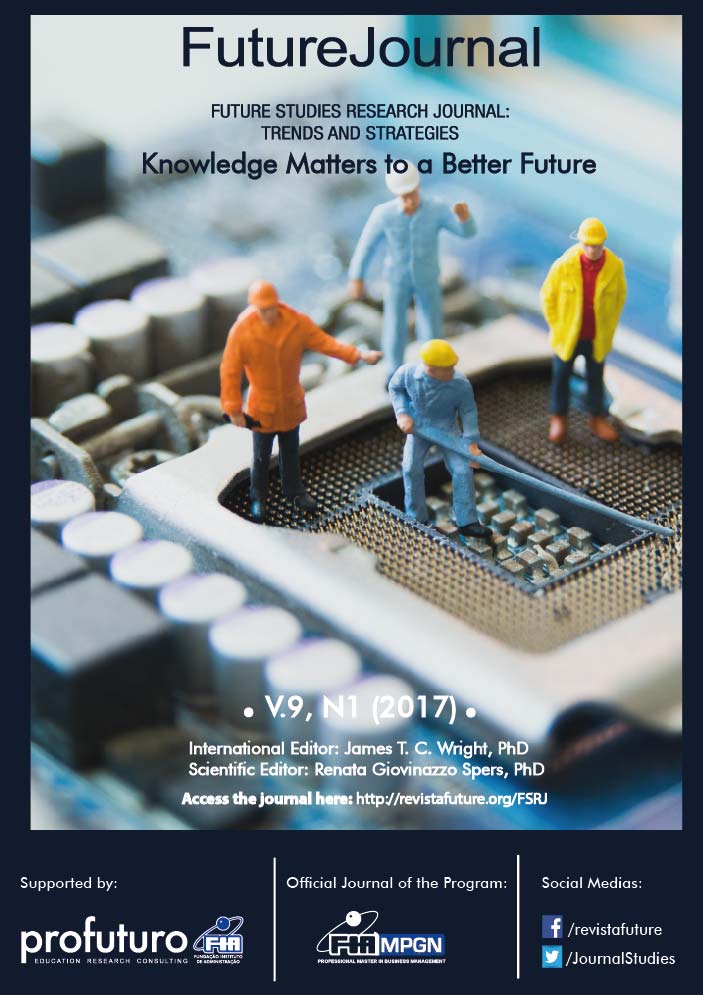 Downloads
How to Cite
Cordeiro, R. A., Barbone, D., Cruz, R. C., & Francisco, E. de R. (2017). Uso de Sistema de Informação Geográfica na Gestão do Marketing Mix: o caso de uma rede de calçados femininos. Future Studies Research Journal: Trends and Strategies, 9(1), 95–114. https://doi.org/10.24023/FutureJournal/2175-5825/2017.v9i1.280
Section
Artigos / Articles
License
Authors who publish with this journal agree to the following terms:
1. Authors who publish in this journal agree to the following terms: the author(s) authorize(s) the publication of the text in the journal;
2. The author(s) ensure(s) that the contribution is original and unpublished and that it is not in the process of evaluation by another journal;
3. The journal is not responsible for the views, ideas and concepts presented in articles, and these are the sole responsibility of the author(s);
4. The publishers reserve the right to make textual adjustments and adapt texts to meet with publication standards.
5. Authors retain copyright and grant the journal the right to first publication, with the work simultaneously licensed under the Creative Commons Atribuição NãoComercial 4.0 internacional, which allows the work to be shared with recognized authorship and initial publication in this journal.
6. Authors are allowed to assume additional contracts separately, for non-exclusive distribution of the version of the work published in this journal (e.g. publish in institutional repository or as a book chapter), with recognition of authorship and initial publication in this journal.
7. Authors are allowed and are encouraged to publish and distribute their work online (e.g. in institutional repositories or on a personal web page) at any point before or during the editorial process, as this can generate positive effects, as well as increase the impact and citations of the published work (see the effect of Free Access) at http://opcit.eprints.org/oacitation-biblio.html
• 8. Authors  are able to use 
ORCID
 is a system of identification for authors. An ORCID identifier is unique to an individual and acts as a persistent digital identifier to ensure that authors (particularly those with relatively common names) can be distinguished and their work properly attributed.