ENVIRONMENTAL SCENARIOS FOR MANDATORY BIO-FUEL BLENDING TARGETS: AN APPLICATION OF INTUITIVE LOGICS
Abstract
Scenarios depicting targets concerning mandatory bio-fuel blending are critical to the strategic planning of food and bio-energy production chains and their design is the purpose of this paper. Each scenario tells a story about how various elements might interact under given conditions. The method herein utilized is primarily based on Schoemaker´s (1995) and Schwartz´s (1991) earlier proposals. A six step framework is followed: i) identify the focal issue; ii) summarize current mandatory blending targets; iii) identify the driving forces as of a macro-environmental analysis; iv) validate driving forces with specialists; v) rank such key forces by importance before uncertainties, building a correlation matrix; vi) design the scenarios. Finally, three alternative scenarios, relative to the adoption on behalf of countries, by the year 2020, of mandatory bio-fuel blending targets, are proposed which might guide these countries' decision makers when planning production systems.
Downloads
Download data is not yet available.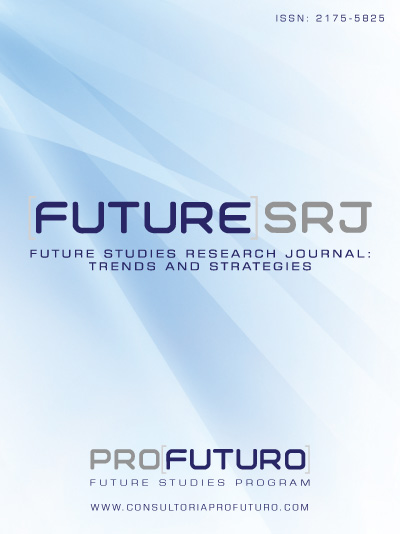 How to Cite
Conejero, M. A., Neves, M. F., & Pinto, M. J. A. (2010). ENVIRONMENTAL SCENARIOS FOR MANDATORY BIO-FUEL BLENDING TARGETS: AN APPLICATION OF INTUITIVE LOGICS. Future Studies Research Journal: Trends and Strategies, 2(1), 99–136. https://doi.org/10.24023/FutureJournal/2175-5825/2010.v2i1.23
Section
Artigos / Articles
License
Authors who publish with this journal agree to the following terms:
1. Authors who publish in this journal agree to the following terms: the author(s) authorize(s) the publication of the text in the journal;
2. The author(s) ensure(s) that the contribution is original and unpublished and that it is not in the process of evaluation by another journal;
3. The journal is not responsible for the views, ideas and concepts presented in articles, and these are the sole responsibility of the author(s);
4. The publishers reserve the right to make textual adjustments and adapt texts to meet with publication standards.
5. Authors retain copyright and grant the journal the right to first publication, with the work simultaneously licensed under the Creative Commons Atribuição NãoComercial 4.0 internacional, which allows the work to be shared with recognized authorship and initial publication in this journal.
6. Authors are allowed to assume additional contracts separately, for non-exclusive distribution of the version of the work published in this journal (e.g. publish in institutional repository or as a book chapter), with recognition of authorship and initial publication in this journal.
7. Authors are allowed and are encouraged to publish and distribute their work online (e.g. in institutional repositories or on a personal web page) at any point before or during the editorial process, as this can generate positive effects, as well as increase the impact and citations of the published work (see the effect of Free Access) at http://opcit.eprints.org/oacitation-biblio.html
• 8. Authors  are able to use 
ORCID
 is a system of identification for authors. An ORCID identifier is unique to an individual and acts as a persistent digital identifier to ensure that authors (particularly those with relatively common names) can be distinguished and their work properly attributed.