Integrating Project Portfolio With Business Strategy: Imagineering
Keywords:
Strategy. Project Management. Imagineering.
Abstract
Aligning project management to the strategy of a big company is a difficult job. Through Imagineering (the business department and project management program), The Walt Disney Company has done this alignment in an exemplary way. Using a theoretical investigation, this study analyzed the Imagineering as a reference in strategic management of global projects through Disney´s business portfolio, a global benchmarking and with Malmberg et al. (2010) as a company guide. As the main results of the correlations carried out, it was noted that the Imagineers who work in project teams apply tools and techniques with a strategic vision focused on differentiation, generating value, and mixing imagination with technical capacity. The Blue Sky department and its integrated units make possible the creation and deployment of the attractions, the theme parks, hotels, resorts and the Disney sea cruises, demonstrating in this way, to be a highly effective project management office.
Downloads
Download data is not yet available.
References
Archer, N. P., & Ghasemzadeh, F. (1999). An integrated framework for project portfolio selection. Inter¬national Journal of Project Management, 17(4), 207-216.
Belout, A., & Gauvreau, C. (2004, January). Factors influencing project success: the impact of human resource management. International Journal of Project Management, 22(1), 1-11.
Boje, D. M. (1995). Stories of the storytelling organization: a postmodern analysis of Disney as "Tamara-Land". Academy of Management Journal, 38(4), 997-1035.
Buys, A. J., & Stander, M. J. (2010). Linking projects to business strategy through project portfolio management. South African Journal of Industrial Engineering, 21(1), 59-68.
Cope, R. F. et al. (2011, Spring). Innovative knowledge management at Disney: human capital and queuing solutions for services. Journal of Service Science, 4(1).
Disney Institute. (2001). Be our guest: perfecting the art of customer service. New York: Disney Enterprises.
Harrison, E. F., & Pelletier, M. A. (2000). Levels of strategic decision success. Management Decision, 38(2), 107-117.
Hightower, D. F. (1993, September-October). Creativity is your business too. Planning Review, 21(5), 54-56.
Longman, A., & Mullins, J. (2004). Project management: key tool for implementing strategy. The Journal of Business Strategy, 25(5), 54-60,
Malmberg, M. et al. (2010). Walt Disney Imagineering: a behind the dreams look at making more magic real. New York: Disney Editions.
Meskendhal, S. (2010). The influence of business strategy on project portfolio management and its success – a conceptual framework. International Journal of Project Management, 28(8), 807-817.
Project Management Institute – PMI. (ed.). (2012). PMBOK Project Management Body of Knowledge Guide (5th edition). Atlanta: PMI.
Pressly, T. R. (2012, July). Linking strategy and project concepts to enchange management advisory services. The CPA Journal.
Oliveira, C. (2013). Webinar on The Positive Psychology of Walt Disney World. Celebration, FL: Seeds of Dreams Institute.
Smith, D. R. (1996). The Walt Disney archives: it all started with a mouse. Historical Journal of Film, Radio and Television, 16(1), 13-17.
Srivannaboon, S., & Milosevic, D. Z. (2006). A two-way influence between business strategy and project management. International Journal of Project Management, 24(6), 493-505.
The Walt Disney Company. (2013). Walt Disney Imagineering. Recuperado em 22 de outubro, 2013, de http://thewaltdisneycompany.com
Van Der Merwe, A. P. (2002). Project management and business development: integrating strategy, structure, process and projects. International Journal of Project Management, 20(5), 401-411.
Vergara, S. C. (2006). Projetos e relatórios de pesquisa em administração (7a ed.) São Paulo: Atlas.
Ying, D. L., & Yong-Dong, S. (2007, September). Implement business strategy via project portfolio management: a model and case study. Journal of American Academy of Business, 11(2), 239-244.
Yiu, C. Y. (2008). A conceptual link among facilities management, strategic management and project management. Strategic and Project Management, 26(13/14), 501-511.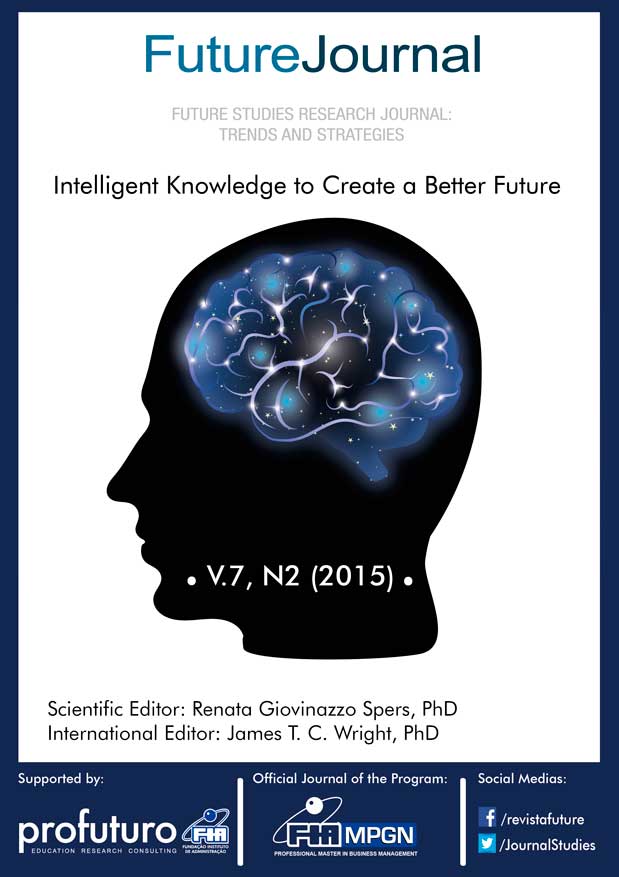 How to Cite
Dal Maso, C. B., da Silva, W. M., de Mello, P. C., & Arruda Filho, N. de P. (2015). Integrating Project Portfolio With Business Strategy: Imagineering. Future Studies Research Journal: Trends and Strategies, 7(2), 155. https://doi.org/10.24023/FutureJournal/2175-5825/2015.v7i2.215
Section
Artigos / Articles
License
Authors who publish with this journal agree to the following terms:
1. Authors who publish in this journal agree to the following terms: the author(s) authorize(s) the publication of the text in the journal;
2. The author(s) ensure(s) that the contribution is original and unpublished and that it is not in the process of evaluation by another journal;
3. The journal is not responsible for the views, ideas and concepts presented in articles, and these are the sole responsibility of the author(s);
4. The publishers reserve the right to make textual adjustments and adapt texts to meet with publication standards.
5. Authors retain copyright and grant the journal the right to first publication, with the work simultaneously licensed under the Creative Commons Atribuição NãoComercial 4.0 internacional, which allows the work to be shared with recognized authorship and initial publication in this journal.
6. Authors are allowed to assume additional contracts separately, for non-exclusive distribution of the version of the work published in this journal (e.g. publish in institutional repository or as a book chapter), with recognition of authorship and initial publication in this journal.
7. Authors are allowed and are encouraged to publish and distribute their work online (e.g. in institutional repositories or on a personal web page) at any point before or during the editorial process, as this can generate positive effects, as well as increase the impact and citations of the published work (see the effect of Free Access) at http://opcit.eprints.org/oacitation-biblio.html
• 8. Authors  are able to use 
ORCID
 is a system of identification for authors. An ORCID identifier is unique to an individual and acts as a persistent digital identifier to ensure that authors (particularly those with relatively common names) can be distinguished and their work properly attributed.