Editorial - [FSRJ]Future Studies Research Journal - V7N1
Abstract
Com satisfação apresentamos a nova edição da Future, a primeira de 2015, com oito artigos que envolvem estudos contábeis, marketing e sociais e outros.
Os autores Fernando Maciel Ramos, Roberto Carlos Klann analisam a qualidade da informação contábil das organizações sem fins lucrativos brasileiras. O objetivo da pesquisa caracteriza-se como descritiva; quanto à estratégia de pesquisa é documental e de abordagem quantitativa. Para mensurar a qualidade da informação contábil das entidades analisadas, foi elaborado um check-list a partir das normas contábeis que norteiam a prática contábil das entidades do terceiro setor composto por sete seções e 59 quesitos, os quais permitiram a construção do Índice de Qualidade da Informação Contábil.
O estudo da base da pirâmide é abordado pelos autores: Vitor Koki da Costa Nogami, Danielle Daffre Carvalho, Geraldo Luciano Toledo, Andres Rodriguez Veloso e Maria Aparecida Gouvêa. No artigo, analisam-se as características de intensidade e adoção da inovação no mercado da base da pirâmide. A intensidade da inovação configura-se como radical e incremental, enquanto a adoção da inovação, como inicial e tardia.
Leandro Januário de Souza, Nawfal Assa Mossa Alssabak, Flávio Romero Macau, Julio Araujo Carneiro da Cunha e Cristina Espinheira Costa Pereira, pesquisaram sobre "A Influência dos Aspectos Sociais na Competitividade das Redes Interorganizacionais: a Experiência da Rede dos Exportadores de Frango Halal Brasileiro". O objeto de estudo desta pesquisa é a influência dos aspectos sociais na competitividade de redes interorganizacionais, e o objetivo é a identificação da contribuição dos aspectos sociais (estratégia de grupo, confiança, comprometimento e cooperação) para a competitividade da rede.
Balanced Scorecard foi o assunto abordado pelos autores Rafaela Thomaz Queiroz, Antonio Lobosco, Martinho Isnard Ribeiro de Almeida e Emerson Antonio Maccari, no artigo que foi aprovado no Fast Track do III SINGEP. A análise desta pesquisa pode auxiliar na construção do planejamento estratégico de uma pequena empresa em fase de crescimento para que seus objetivos estratégicos sejam atingidos.
"Aplicação da Criatividade para Gerar Projetos de Inovação: O Caso Prático de uma Estratégia Didática" também foi aprovado no Fast Track III SINGEP. Os autores: Eliana Maria dos Santos Pereira Alves e Ovídio Felippe Pereira da Silva Júnior discutem elementos como identificação de oportunidades, criatividade, inovação e empreendedorismo, buscando sua inter-relação para compreender como é possível motivar a geração de propostas de projetos inovadores em ambientes de ensino.
Os autores Mariana Bassi Sutter, Laura Ferranty Mac Lennan, Gabriela Pelegrini Tiscoski e Edison Fernandes Polo, abordam o tema de brasilidade com o objetivo de compreender as representações da imagem do Brasil e os diversos significados do conceito de brasilidade por diferentes pontos de vista.
Competitividade Agressiva é o tema abordado pelo autor Antônio Benedito Oliveira Junior e especificamente, demostra a importância da CA para a sobrevivência e crescimento da empresa em mercados cada vez mais dinâmicos, turbulentos e competitivos.
O artigo "A Influência do Nível de Competências e de Maturidade em Gestão de Projetos no Resultado Corporativo de uma Empresa do Setor de Transformação" de autoria de Gislaine Cristina dos Santos Teixeira, Emerson Antônio Maccari e Daniel Simonsen, tem por objetivo analisar a influência das competências e da maturidade em gestão de projetos das equipes matriciais e dos gerentes no desempenho dos projetos e consequentemente no resultado corporativo.
Boa leitura!
Renata Giovinazzo Spers
Editora Científica
James Terence Coulter Wright
Editor Internacional
Downloads
Download data is not yet available.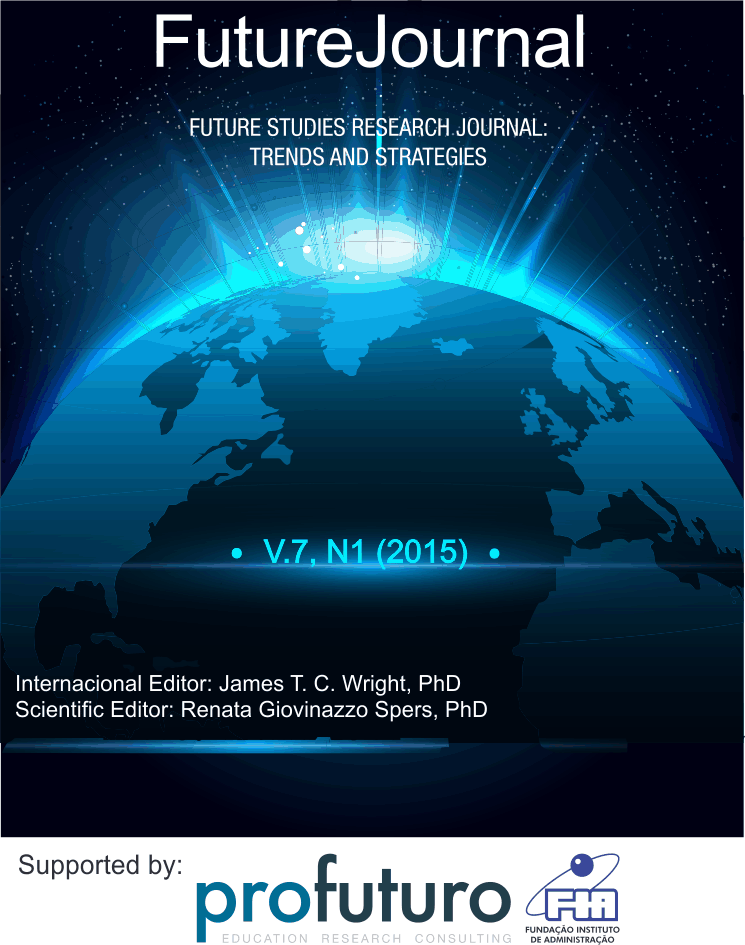 Downloads
How to Cite
Spers, R. G. (2015). Editorial - [FSRJ]Future Studies Research Journal - V7N1. Future Studies Research Journal: Trends and Strategies, 7(1), 02. https://doi.org/10.24023/FutureJournal/2175-5825/2015.v7i1.207
License
Authors who publish with this journal agree to the following terms:
1. Authors who publish in this journal agree to the following terms: the author(s) authorize(s) the publication of the text in the journal;
2. The author(s) ensure(s) that the contribution is original and unpublished and that it is not in the process of evaluation by another journal;
3. The journal is not responsible for the views, ideas and concepts presented in articles, and these are the sole responsibility of the author(s);
4. The publishers reserve the right to make textual adjustments and adapt texts to meet with publication standards.
5. Authors retain copyright and grant the journal the right to first publication, with the work simultaneously licensed under the Creative Commons Atribuição NãoComercial 4.0 internacional, which allows the work to be shared with recognized authorship and initial publication in this journal.
6. Authors are allowed to assume additional contracts separately, for non-exclusive distribution of the version of the work published in this journal (e.g. publish in institutional repository or as a book chapter), with recognition of authorship and initial publication in this journal.
7. Authors are allowed and are encouraged to publish and distribute their work online (e.g. in institutional repositories or on a personal web page) at any point before or during the editorial process, as this can generate positive effects, as well as increase the impact and citations of the published work (see the effect of Free Access) at http://opcit.eprints.org/oacitation-biblio.html
• 8. Authors  are able to use 
ORCID
 is a system of identification for authors. An ORCID identifier is unique to an individual and acts as a persistent digital identifier to ensure that authors (particularly those with relatively common names) can be distinguished and their work properly attributed.